Volunteering – what motivates me
Keith Shephard has been volunteering for Healthwatch Hertfordshire for almost five years and shares his reasons for volunteering and commitment to the charity.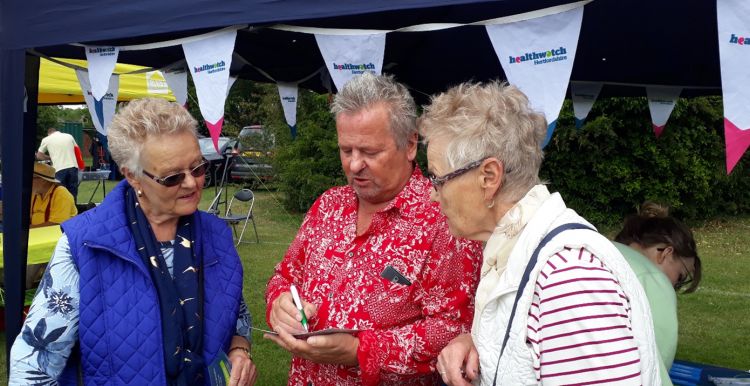 What motivates me?
I am passionate about social policy and how it impacts on communities. Before semi-retirement I enjoyed a 40-year career in public services.  I like talking to people and finding out their opinions.
I have a positive attitude and am motivated to help secure the best possible health and social care for local people.
Volunteering also makes me feel more valuable to society. Having stopped full time work it is important for me to remain involved in some way.
Why Healthwatch Hertfordshire?
In 2014 I worked as a researcher for Healthwatch, carrying out survey work on the streets in East Herts to inform a project which was looking at Access to GP services.  Healthwatch Hertfordshire has an important role to play in our local communities – gathering intelligence and getting a first-hand insight into the experiences of people accessing these services, reporting findings to decision makers.
I enjoyed talking to people and listening to their experiences and it made me think that I wanted to do more. It was then that I decided to volunteer with Healthwatch Hertfordshire.
What are the highlights of your time volunteering?
When we are on our Enter and View Visits it has to be the opportunity to talk to users in care homes, hospitals and front line staff getting a real insight into what it is like.
It is an important role being an independent volunteer to gather information and feedback on what things are really like.  I get to hear concerns, issues and anecdotal stories first hand and this gives an important voice to users. I also see and hear a lot of positive things. Small things can make a huge difference.
On my visits, I do meet a lot of compassionate people and that is very uplifting.
How do you see the future of Healthwatch Hertfordshire and volunteering?
Having an independent voice for health and social care in our local communities outside of the formal inspection/complaints systems is important to allow for more informal, but structured, insight into experiences to add to the picture seen by commissioners and providers.
Healthwatch Hertfordshire is good at training and supporting volunteers and is stepping up further.
Growing the pool of appropriately trained and committed volunteers across the county enables Healthwatch to undertake larger volumes of activity, gathering more intelligence and thereby strengthening influence on behalf of local people.
The range of volunteering opportunities means that volunteers have choice and control over their own involvement.
Update January 2021
Like most organisations our volunteering activity has been constrained during the pandemic and we currently have no volunteer vacancies.