Armed Forces Day 2022 - How are services supporting our local veterans?
Armed Forces Day on Saturday 25th gives us an opportunity to reflect on what has been achieved in the last year to improve access to healthcare for local veterans.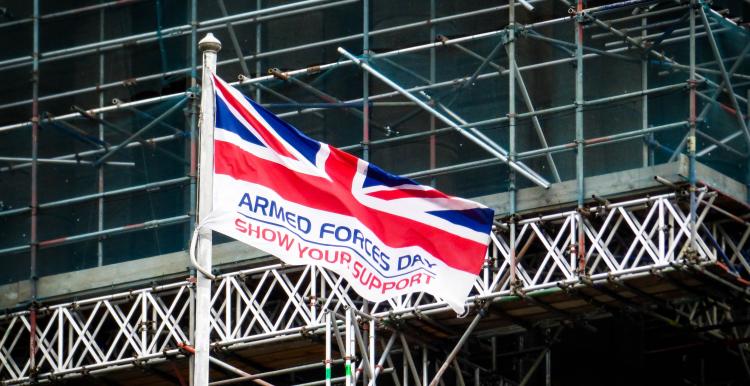 It is an opportunity for us all to show our support for the people who make up the Armed Forces community, from currently serving troops to families, veterans and cadets. 
In March, we published our report which looked at how access to healthcare could be improved for local veterans by hearing directly from veterans about their lived experiences. Our report highlighted that veterans were not often identified by services and did not tend to receive priority treatment, even if they were entitled to this. The findings also found that both veterans and services are not always aware of the local and national support available to them.
What improvements have been made?
Using our report, the Hertfordshire Armed Forces Covenant Board developed practical steps for ensuring fair access to healthcare for local services in their 2022/23 action plan. These included: 
Encouraging Hertfordshire GP practices to sign up to the Veteran Friendly GP practice scheme and hospitals to the Veteran Aware Hospitals scheme.
Embedding the needs of veterans into social prescribing* plans in Hertfordshire and ensuring support available could be accessed via Veterans Gateway.
Supporting the proposed NHS England (NHSE) Single Point of Contact pilot scheme for veterans in Hertfordshire.
Working with the Hertfordshire and West Essex Integrated Care System (ICS) to develop better information and needs data on veterans to ensure consistent coding and reporting on any access issues.
As of May 2022, there are now 12 Veteran Friendly accredited GPs in Hertfordshire - an increase on last year.
Following the publication of our report, East and North Hertfordshire Clinical Commissioning Group (ENHCCG) has been raising awareness about veterans amongst GP practice staff through Quality Assurance Visits. The visits have encouraged practices to flag whether someone has served in the Armed Forces on their systems and referrals, to promote specific services for veterans, such as NHS Op COURAGE, and to sign up to the Veteran Friendly accreditation scheme. ENHCCG has also been engaging with local stakeholders working with veterans to develop relationships and share learning.
A spokesperson from ENHHCG said:
"The findings of the Healthwatch Hertfordshire report has given us a fantastic opportunity to learn what veterans feel are going well for them in areas of health and care, and what areas of improvements can be made. The patient group face some challenges that are unique to having been in service, and the health and care system have taken steps to help ensure military veterans are not disadvantaged in accessing public services. However, there is still a lot of work to be done and we want to continue to hear the experiences of veterans, their families and colleagues across the board so that we are doing our very best to meet needs and improve experiences."
*Social prescribing involves helping patients to improve their health, wellbeing and social welfare. It is when health professionals refer patients to community services which might be run by the Council or a local charity.
Are you a veteran?
If you're a veteran living in Hertfordshire, there is support available for you. This support ranges from housing, employment, education, welfare, healthcare and more. Some of the support available is listed below:
Jim McManus, Executive Director of Public Health Hertfordshire said:
"Since the publication of the Healthwatch Hertfordshire report "Improving Healthcare Access for Veterans" in 2021, funded by Hertfordshire Public Health, strides continue to be made to ensure those in the Armed Forces community do not face disadvantage when accessing health services in Hertfordshire. The report provided an excellent evidence base upon which to focus key priorities for this work, led by the Health Group of the Hertfordshire Armed Forces Covenant Board. The group continues to raise awareness to GP surgeries and Hospital Trusts about specific needs of this community and the services available to them. Further highlighting the needs of the Armed Forces Community, Hertfordshire Public Health published a JSNA LiteBite on Armed Forces Community in May 2022. 
Read the full report and recommendations here