What are people telling us about the COVID-19 vaccines?
The UK's COVID-19 vaccine rollout has been the most significant public health exercise in recent history. While the rollout has been an incredible achievement, we wanted to understand people's motivations to either receive or refuse the vaccine.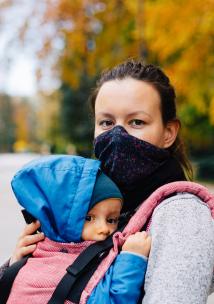 Background
Since late 2019, the UK has been battling the Coronavirus (COVID-19) pandemic. For many, the arrival and progression of the UK's vaccination programme has encouraged hopes of a return to normality. However, while the rollout has been very successful, some people remained concerned or had questions, potentially preventing them from accessing the vaccine.
What We Did
We conducted two surveys between February and May 2021. One survey looked at people's experiences of receiving the vaccine and one looked at people's attitudes towards receiving the vaccine. In total, we heard from 1,820 Hertfordshire residents.
What We Found
Although the findings highlighted many positives about the vaccine rollout in Hertfordshire, they also indicated that work needed to be done to address the concerns of those with lower levels of vaccine confidence. Commissioners and providers also needed to ensure equal access to the vaccine, particularly for those who may have pre-existing conditions relating to healthcare, as well as improve the standard of communication in a range of areas.
The majority of respondents said that they wanted to receive the vaccine when offered to them and most people who had already received the vaccine reported a positive experience. However, both groups of people still had concerns and questions remaining.
Key concerns centred around vaccine safety, side effects and access issues.
The most common theme under suggestions for improvements was a need for better information and communication. People wanted improved information about side effects, clarity about receiving both doses of the vaccine and better communication from their GP.
Many of these concerns were raised by people who may already have issues with accessing healthcare, such as those who live with a disability or medical condition, or those who are housebound.
The full findings can be found in our report: 'What are people telling us about the COVID-19 vaccines?'
What Happens Next?
Early findings were shared with health and care partners to increase the understanding of how the vaccine was being received in real time, and to inform commissioning and communication decisions. Based on the findings, we have made 7 recommendations to service providers and commissioners to improve access, information and communication.
The findings and recommendations will continue to be shared with Hertfordshire service providers and commissioners to assist them in rebuilding improved health and social care services.
Dr Jane Halpin, Chief Execuive Officer, Hertfordshire and West Essex Integrated Care System and its three Clinical Commissioning Groups (CCGs) commented:
We are grateful to Healthwatch Hertfordshire for carrying out this important piece of research and it was very helpful to see interim findings at an earlier stage of the roll-out of the vaccination programme...We are learning from the experience of phases one and two of the vaccine roll-out and will continue to take on board the insight gathered by Healthwatch Hertfordshire, passing findings and recommendations on to all those involved in delivering COVID vaccinations across our area...As some decisions about how the vaccination programme is delivered are made at a national, not local level, we will also pass on Healthwatch's findings to our partners in the wider NHS, including NHS England, as we want to make sure that all those in a position to make changes can do so.
The rollout of the vaccine in Hertfordshire has largely been a success - and those responsible and involved can rightly be proud of what has been achieved. The report has highlighted some of the concerns of residents but also the successes. A huge thank you to all those who contributed to the report and I hope that the report can make its contribution to learning the lessons in fighting this pandemic; a pandemic that has changed how we live.
Read the full report and recommendations here