GP Website Audit – Finding information during COVID-19
Are GP websites providing up to date information on COVID-19 and is there accessible and available advice for cancer patients, particularly at a time when it is likely that there would be an increase in patients accessing websites for information?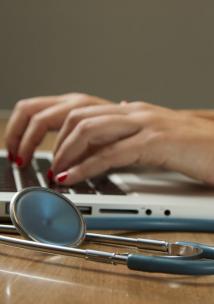 Take a look at what we found when our volunteers audited all the GP Practice websites in Hertfordshire.
Background
The work was prompted by concerns raised by members of the Patient Advisory Board at a meeting of the East of England Cancer Alliance on the 15th April 2020. Elective treatments, including cancer surgery, had been cancelled or postponed due to a reduction in intensive care units (ICU) and staffing capacity during the height of the pandemic.
At an East of England local Healthwatch meeting, Healthwatch Central Bedfordshire asked if other local Healthwatch in the region could replicate the GP website review they had done in their areas and Healthwatch Hertfordshire agreed to do so. In this way a picture of what is happening across the region as regards the credibility and accessibility of virtual information for patients can be evidenced and recommendations for improvements can be focussed both regionally and locally.
What We Did
We designed an online survey for our volunteers to audit the websites using the same key questions as Healthwatch Central Bedfordshire:
Is the website up to date?
Is there current Covid-19 advice?
Is there a link to the NHS Covid-19 advice site?
Is there advice for Cancer Patients?
Is there a link to the Macmillan Covid-19 web page?
Are there any links to Cancer Support Groups?
Is there information/links to the local Healthwatch?
The audit was carried out by 15 volunteers and 2 staff members over a 2 week period: 25th June to 10th July 2020. We covered all the GP practices in Hertfordshire viewing 103 websites.
What We Found
Quality and consistency of cancer information and support varied across the different websites and was often hard to find.
Information about what to look out for and what to do (Let's be Clear on Cancer) needs to be much more prominently displayed on GP websites. Patients should be actively encouraged to call their doctor or to complete an e-Consultation through a personal message from the practice if they are at all concerned.
93% of websites were considered to be up to date or reasonably up to date.
99% of websites provided Covid-19 information.
96% of websites provided a link to the NHS Covid-19 advice site.
89% of websites provided some kind of advice for cancer patients.
61% of websites provided a link to the Macmillan Covid-19 web page. 
85% of websites provided a link to some kind of cancer support group.
1% of websites provided a link to local Healthwatch.
The Healthwatch survey provides really valuable insight to help improve information for patients and Herts Valleys CCG will communicate the findings to all GP practices along with the Healthwatch recommendations. It is reassuring that most GP Websites in Hertfordshire held information for patients with cancer and COVID-19 but we clearly need to make sure that there is more consistency so that all patients receive the same quality and quantity of information.
East and North Hertfordshire CCG would like to thank Healthwatch Hertfordshire and the volunteers who carried out this piece of work. We recognise how important it is for GP practice websites to feature good quality information which is both up to date and easy to find, especially when NHS services and how patients access them has changed dramatically. It's pleasing to see that most practice websites viewed as part of this audit met these standards.